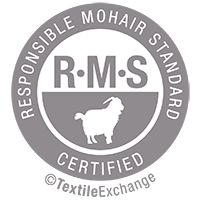 YOUR EXPERIENCED SOUTH AFRICAN MOHAIR SPECIALISTS
Our involvement in the heart of the world mohair industry – Port Elizabeth – began in 1965, and we have learnt, adapted and expanded tremendously along the way to reach where we are today.
With various changes to the business since then, South African Mohair Industries Limited (SAMIL) was officially formed in 1992, as we continued to grow Mohair from national to international, from Eastern Cape mohair to South African mohair.
Our mohair products are made from the finest natural fibres, and although we began as a mohair trader and processor, our ambitions have since reached far beyond this. Today, we see ourselves as the link between mohair producers, processors and consumers, and as pioneers of the future.
OUR MOHAIR
This luxury natural fibre is exceptionally versatile and blended with a variety of other natural or synthetic fibres.
Although mohair's principal characteristics are similar to those of wool, it does possess other unique properties not found in any other type of fibre, making mohair products an ideal choice. These properties include its lustre, durability, elasticity, non-flammability, moisture retention, tensile strength and resistance to soiling.
Click on a pulse to see more info about that agent.